Ben Elton blasts Rishi Sunak as a 'mendacious narcissistic sociopath'
The author, who was a panellist on the BBC's Sunday With Laura Kuenssberg, was reacting after watching Mr Sunak give an interview in which he urged cash-strapped Britons to hold their nerve over interest rate hikes and stressed there was "no alternative" to stamping out inflation.
The PM also insisted he demonstrated his integrity when he resigned from Boris Johnson's government, and defended his decision to skip a Commons vote on the Privileges Committee report.
Elton criticised Mr Sunak for delivering what he called an "extraordinary Orwellian, meaningless, evasive word salad".
He said: "I sort of believed maybe he's kind of a bit more decent, and it turns out, he's as much of a mendacious, narcissistic sociopath as his previous boss.
"This man literally, he seemed to be making a principle of the fact that he resigned from a government that he'd served loyally and tried to keep propped up for numerous years.
"He's trying to boast about having worried about inflation while he was chancellor of the exchequer under Johnson."
He added: "He seems to act as if being born into Downing Street six months ago was a miracle birth.
"No – he was a part of a 13-year cycle which has got us to this point."
Elton went on: "He's the Prime Minister.
"He owes us honesty but we got nothing but mendacity, evasion and vanity, just dripping with vanity."
Mr Sunak told Kuenssberg that "inflation is the enemy" and defended the Bank of England's decision to raise interest rates to a 15-year high last week, piling pressure on mortgage-holders.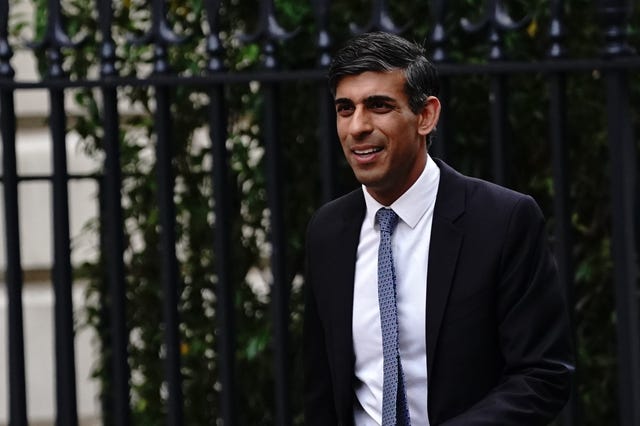 Speaking about missing the Commons vote Privileges Committee report last week, which found Mr Johnson deliberately misled Parliament over parties at Downing Street during lockdown, he insisted that he showed his integrity by resigning as chancellor.
The PM was notably absent during the debate and the vote and has since been facing accusations of being too "weak" to stand up to his former party leader.
Mr Sunak said: "I was a person that as chancellor resigned from Boris Johnson's government" and explained he missed the vote "because I was actually speaking and attending an event at a fantastic charity called Jewish Care, which does an extraordinary job looking after people around the country".
He went on: "Your point is, do I have to demonstrate my integrity and my leadership? I did that when I resigned.
"I demonstrated that I was prepared to stand up for what I believe in…"
Kuenssberg accused Mr Sunak of being in "some kind of parallel universe where the NHS is getting better and the economy is going to be okay".
She added: "That's not the experience of millions of people right now."
Mr Sunak replied: "I've never said that it's not challenging.
"I've never said that this isn't going to be a difficult time to get through but what I want to give people the reassurance and confidence is that we've got a plan, the plan will work and we will get through this."