Blue Anchor Coastal Defence Scheme drone aerial footage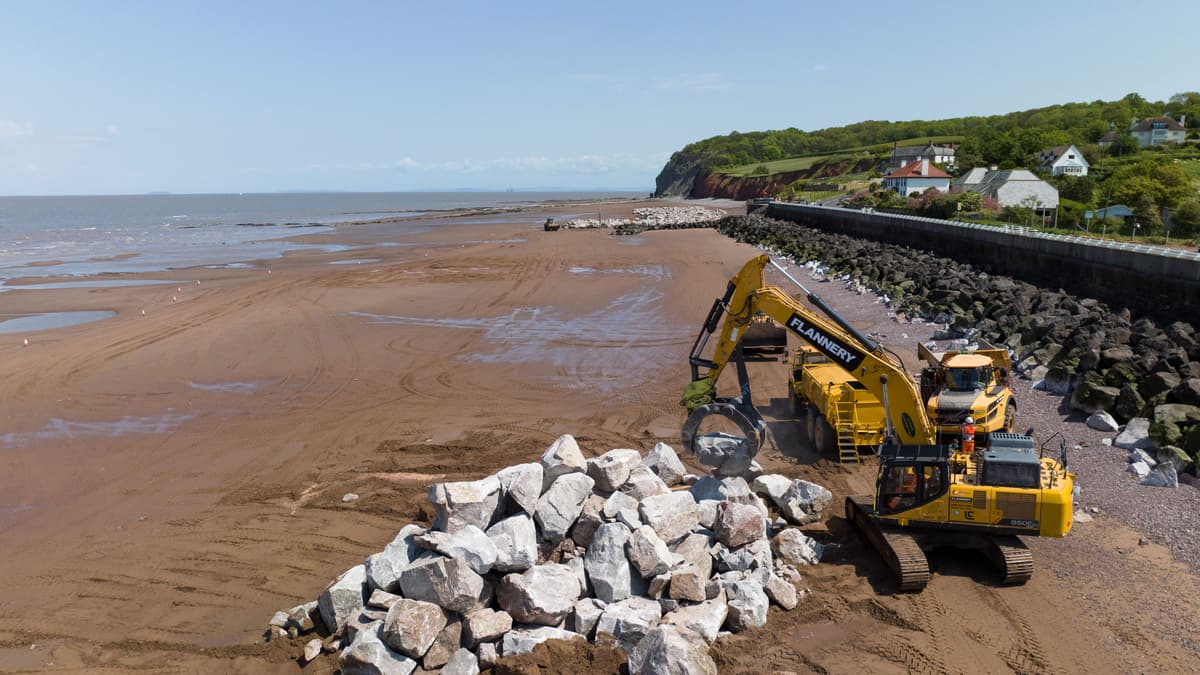 Exciting aerial footage has emerged of a major project designed to protect a vital Somerset road and the nearby properties from coastal erosion.
Somerset West and Taunton Council carried out emergency repairs to the sea defences at Blue Anchor in late-2020 to prevent the nearby pub (now called Anchor's Drop) and the B3191 from falling into the sea.
Work on a more permanent £3.8m scheme began in early-May, with 13,500 tonnes of granite being delivered to Blue Anchor Bay from the west coast of Scotland.
Drone footage has now emerged showing the rock armour being delivered and moved into place, ensuring the road and the pub are protected for decades to come.
Aggregate Industries supplied the 'armourstone' boulders from its Glensanda 'super-quarry', with the rock armour being transported to the west Somerset coast by the MV Hagland Saga.
Three trips were required over a period of 21 days, with each voyage moving around 4,500 tonnes of granite.
Once anchored off the coast of Blue Anchor, the granite was moved to a smaller SeaRock barge for the final stage of its journey to the beach.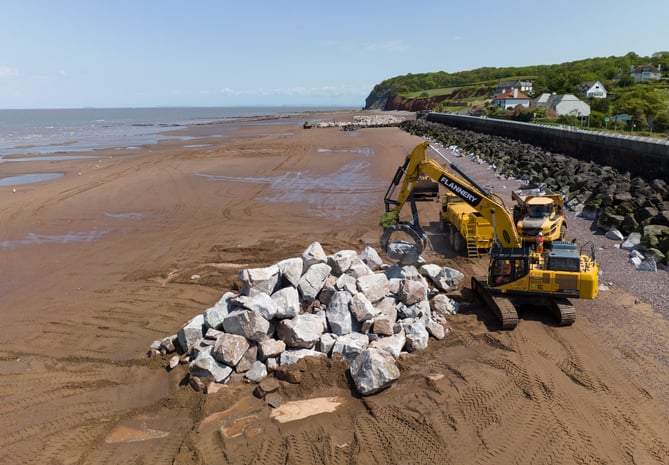 Rock armour on the beach at Blue Anchor (Aggregate UK. )
From there, Kier – which has been contracted for the scheme by Somerset Council – has been lifting and positioning the boulders at the base of the existing cliffs, working within the existing limits of the tides.
Stephen Dryden, regional director for Aggregate's north, Scotland and overseas division, said: "This was a fantastic project to be involved in and we have had to work very closely and collaboratively with the council and the principal contractor.
"Logistically, it was no mean feat to transport 13,500 tonnes of granite from western Scotland to Somerset, but it really demonstrates our capabilities.
"We have built up a real reputation for being able to deliver on such schemes with numerous coastal defence projects to our name. Transporting by sea in this way also eradicated the need for more than 700 vehicle journeys."
The scheme is expected to be completed by the end of September, with disruption to residents and tourists being kept to an absolute minimum.
Councillor Sarah Dyke, portfolio holder for the environment and climate change, said: "I am delighted to see these important works finally take place, benefiting the communities in west Somerset.
"The scheme will provide a more permanent defence against coastal erosion."