Bucks Radio Tour De Vale raises over 30K for Wheelpower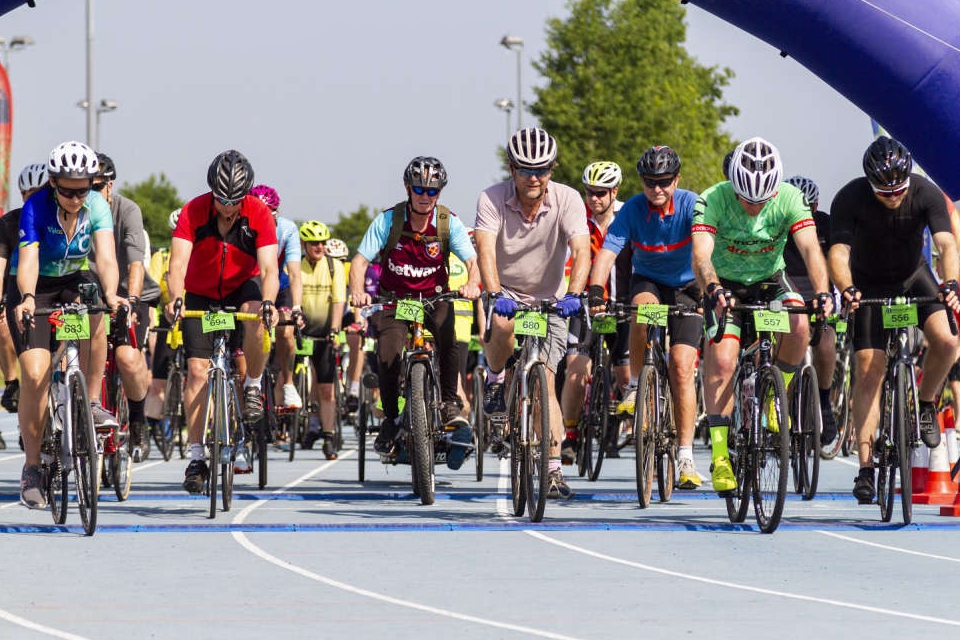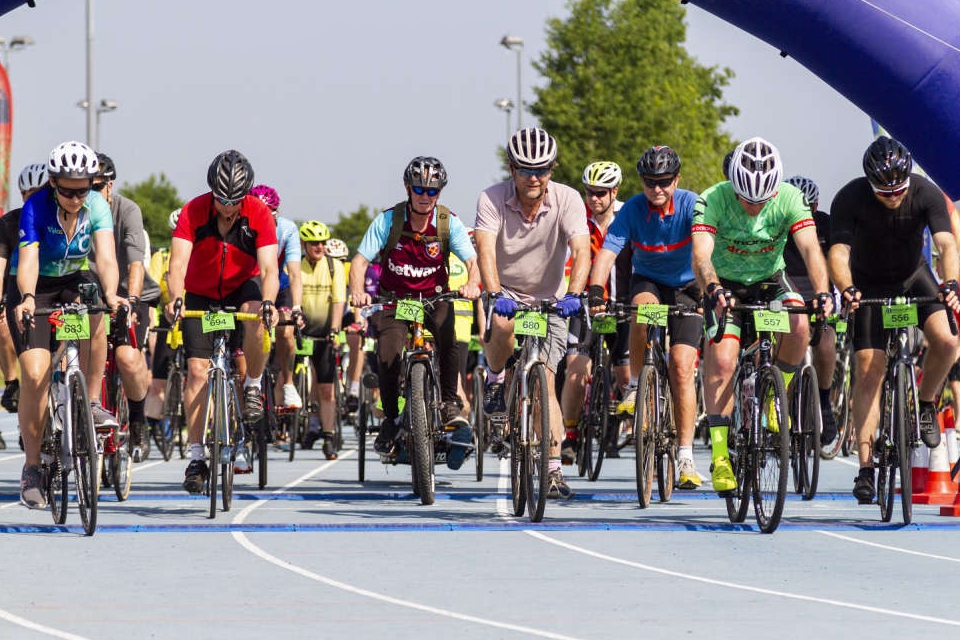 It was a very sunny Sunday at Stoke Mandeville Stadium as local charity WheelPower welcomed over 750 cyclists to the annual Bucks Radio Tour de Vale charity bike ride.
 In 2023 the charity celebrated the 20th edition of this fantastic community event and the high temperatures didn't stop everyone having a great day, and together raising in excess of £30,000 for the charity. 
The cyclists were waved off from Stoke Mandeville Stadium by Vice chairman of Buckinghamshire Council Mimi Harker OBE before setting off on a 25km, 75km or 110km loop through the beautiful local countryside that surrounds Aylesbury. This year saw new routes that went through the lovely Eythrope Park, the Claydons and Stowe, with plenty of regular water stops and friendly marshals across the county to direct everyone on their way back to Stoke Mandeville.
Upon returning to the Stadium the riders were able to enjoy a BBQ, ice cream and enjoy a free massage from Bucks New University students, before collecting a well deserved medal. They were presented these medals by Wheelchair Basketball star Charlie McIntyre. Charlie was supported by WheelPower to purchase his very first basketball chair when he was just 9 years old. Now 18, Charlie has continued to develop his game and won an amazing Bronze medal for Team England at the Birmingham 2022 Commonwealth Games.
"It's been a great day and really good to see people of all ages and abilities taking part. The money raised by this event will help give back to people just like me in the future. To have gone full circle and be back at Stoke Mandeville where I played my very first wheelchair basketball games is mad! Well done to everyone for riding and it was a real honour to present you with your medals."
Two of the riders who took part for the first time were Raj and Josh, a Father and Son team from Fairford Leys in Aylesbury. "It's been really fun day for us both and until recently I hadn't been on a bike for years. The training has given us the motivation to cycle more and we are now looking forward to doing longer distances in the future. Supported by our friends and family and all of our customers we have raised over £830 for such a great cause, and I feel so proud for my son who got us involved."
This year's event was sponsored by local radio station Bucks Radio. Nathan Cooper, Programme Controller told us, "We were delighted to once again support the Tour de Vale. It's such an important date on the Buckinghamshire calendar, and as always, it was a tremendous day. Huge congratulations to every single person who cycled in the sweltering conditions and a massive thank you from all of us at Bucks Radio for your efforts in raising money for such a fantastic cause."
Martin McElhatton, Chief Executive at WheelPower continues, "I can't believe it'sbeen 20 years of running the Tour de Vale, and we are so thankful for the ongoing support of our community. This year's event saw 760 cyclists come together for our charity, and the day has gone spectacularly well. We've had wonderful weather, great marshals, volunteers and so many people to thank who have helped make the 2023 event such a success."
"Every penny that has been raised from the Tour de Valeis reallyimportant to us, and will help us to continue providing life changing opportunities for disabled people to enjoy sport and get moving. Thank you for all your support and we hope to see you again on Sunday 9 June 2024."
WheelPower have been providing opportunities for people with physical impairments to take part in sport for over 70 years. Based in Stoke Mandeville, the birthplace of the Paralympic movement, WheelPower is at the heart of wheelchair sport.