Chicago Cubs' Marcus Stroman wants MLB to be embraced globally after London trip
Stroman will start Sunday's second contest of the two-game series at London Stadium, with the Cubs targeting a sweep of their bitter National League Central rivals after Justin Steele picked up a 9-1 win in Saturday's opener.
The 32-year-old is one of the sport's most dynamic and expressive personalities both on and off the mound, resulting in the alliterative moniker 'the Stro Show' for his starts – the last seven of which have ended in wins.
Stroman, who on Saturday was described by manager David Ross as "the MVP of our team" who "loves the spotlight", had never visited the English capital before this trip and said it has opened his eyes to Major League Baseball's international reach.
Asked if MLB could be embraced globally, Stroman told the PA news agency: "Absolutely I think we can. It's just a matter of marketing our players and putting us on this stage so that the world can kind of see.
"Yeah, I would love to continue playing in all the cities around the world. I think it's pretty special. I think you also realise how many fans we have worldwide, whereas when we stay in America you kind of lose sight of that."
Stroman made his big-league debut in May 2014 for the Toronto Blue Jays, the only MLB franchise outside the United States.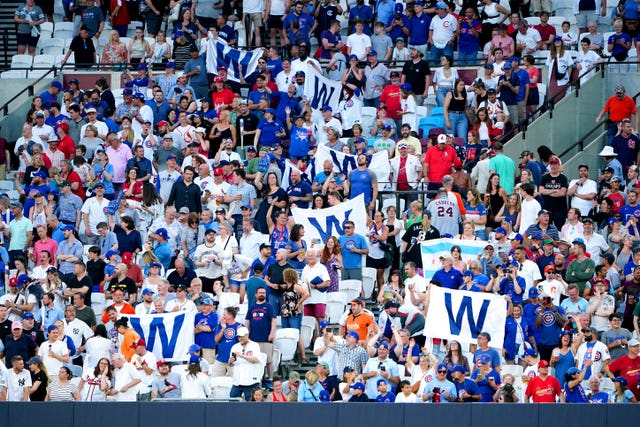 An anterior cruciate ligament tear sustained in spring training the following year denied him a coveted hometown opening-day start at Yankee Stadium, with many assuming he would miss the entire season.
But Stroman saw an opportunity in the rehab stint, using it to do something he had long been determined to accomplish: finish his undergraduate degree in sociology at Duke university, sandwiching four to five hours of classes between training sessions.
That September Stroman made his avowed miracle comeback, returning just in time to help Toronto secure a first trip to the post-season in 22 years.
At 5ft 8in, 'Stro', whose personal motto is 'height doesn't measure heart' stands below the MLB average of about 6ft and, from an early age was fuelled to disprove the coaches, peers and pundits who wrote him off because of his stature.
Stroman's success combined with an eternally optimistic, heart-on-his-sleeve personality has endeared the pitcher to fans in Chicago since he signed a three-year deal worth a reported USD 71million in 2021.
Supporters want the Cubs to sign Stroman to an extension – a point they made abundantly clear at a rally in London by chanting his name at chairman Tom Ricketts.
Stroman is aware of his seven-game streak, but insisted he will not approach Sunday's start differently, saying: "I just prepare really well and I go out there at the end of the day whatever happens happens, so I do all I can to prepare and then go out there and compete and have fun."
Ross does not underestimate the potentially valuable impact his equally talented and entertaining Sunday starter could have as MLB tries to convert curious Britons into to bona-fide fans.
He said: "Come out and see the Stro Show. It's going to be fun. He's one of the best pitchers in the league. He's carried us. He's been our ace. He loves the moment.
"He's going to be a star on the big stage, you're definitely going to get that. He's a guy that loves the spotlight and rises to the occasion when things matter.
"He's been our MVP of our team, I would say. If the fans want entertainment, definitely show up. They're going to get a good show."