Danny Austin's 10 Takeaways from the Stampeders' loss to the Riders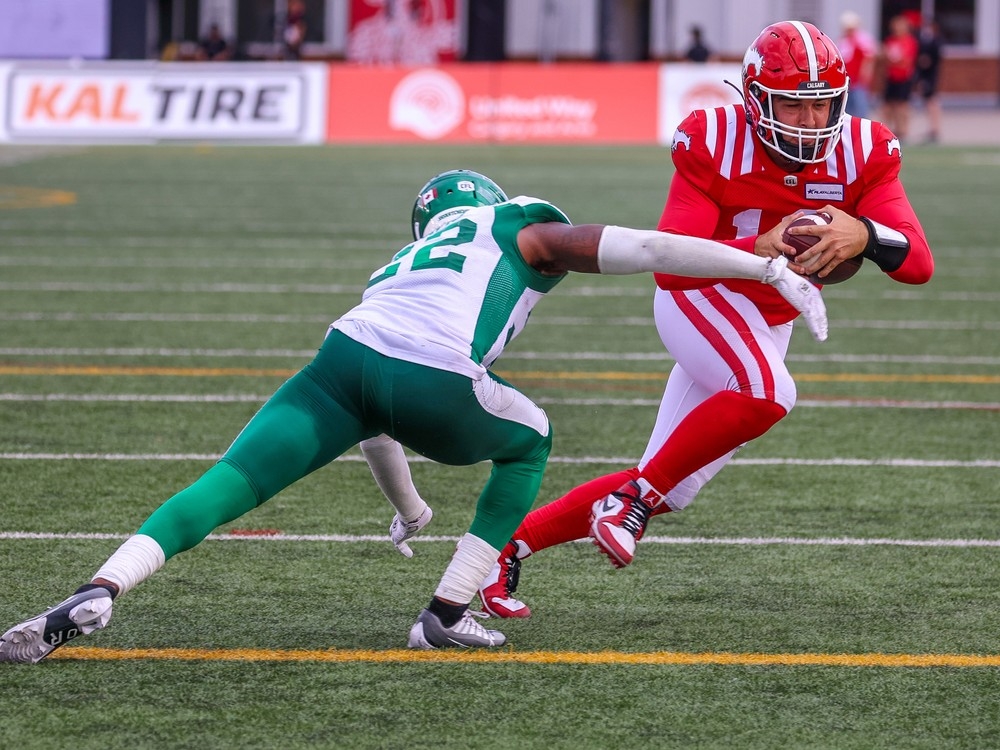 It was a hard night for the Calgary Stampeders.
This advertisement has not loaded yet, but your article continues below.
A double-overtime loss to the Saskatchewan Roughriders is tough. Losing your top receiver for the season with a ruptured Achilles tendon is worse.
Here's 10 takeaways from Saturday's 29-26 defeat at McMahon Stadium:
Malik Henry ruptured his Achilles tendon on Saturday night and is out for the season.
That's devastating on so many levels, first and foremost for the player himself. Stamps running back Romar Morris suffered one a few years ago and it kept him out for an entire year.
Henry is 26-years-old, so there's every reason to believe he can recover and return to the field, but it's a long process. On a human level, it's just a terrible bit of news.
As for what it means for the Stampeders, that's obviously secondary, but it's not good. Henry was the Stamps' top receiver in 2022 and was playing well through the first three games of the season – particularly in Week 2 and 3.
This advertisement has not loaded yet, but your article continues below.
He's their best deep-ball threat and a guy who uses his speed to leave defensive backs in the dust. In one moment, he can change a game.
As far as other American options go, Tommylee Lewis is the only other receiver currently under contract with the Stamps who can step in. He's been dealing with hamstring issues, but they'll need him available quickly.
And at this point, bringing in reinforcements is inevitable.
I'd love to move on to a different topic, but unfortunately, the Stamps injury situation is bad enough that we need to talk about it a little more.
Losing Henry would be bad enough on its own, but his injury compounds an already brutal situation for the Stamps.
Reggie Begelton and Ka'Deem Carey are as important as any players on the Stampeders offence and they're both on the six-game injured list. Running back and kick returner Peyton Logan got hurt on Saturday, as well.
This advertisement has not loaded yet, but your article continues below.
If Carey and Logan are both out for a while longer, a running back room that was as deep as any in the league is suddenly going to be tested. It's all on Dedrick Mills, at least for a little while.
And when you add Jalen Philpot to a list of injured receivers that already includes Begelton and Henry, it starts looking really dire. How many teams could survive losing arguably their top three receivers for an extended stretch?
It's honestly just a rough, rough situation for the Stampeders right now. Their skilled players all seem to be getting hurt, and those guys don't just grow on trees.
I feel for Jake Maier. There seems to be very little patience for a young quarterback needing time to develop in Calgary.
I understand that there's a lineage of QBs who have stepped in and produced at a high level. But do the people who are yelling and screaming about Maier's accuracy not remember that there was a huge faction of the Stamps fanbase that was screaming about the same things with Bo Levi Mitchell last year?
This advertisement has not loaded yet, but your article continues below.
Is it great that Maier threw for three interceptions? Obviously not.
Is playing with a receiving corps that is woefully short on experience going to make it easy for a quarterback? No.
Are there people who are going to stomp their feet and huff and puff about me "making excuses" because I acknowledged that there were some less-than-ideal circumstances that might have impacted Maier's performance? You bet there are.
A little patience can go a long way, that's all I'm saying.
For all the concern about injuries, I do think it's worth noting that Dedrick Mills has done exactly what most of us expected him to do when Ka'Deem Carey got hurt.
Mills showed last year that he could produce when an opportunity presented itself, and he's picked up right where he left off last year.
This advertisement has not loaded yet, but your article continues below.
Mills rumbled to 74 yards on 14 carries, while also catching two passes for 14 yards.
With the passing game not quite firing on all cylinders, the Stampeders are going to need Mills to be spectacular when they come back from their bye-week.
It's probably not entirely fair to put so much focus on the injuries that are plaguing the Stampeders and to act like it's all doom and gloom.
It's a big challenge, but the guys who are slotting into the lineup are responding pretty decently.
In his first start, first-round draft pick Cole Tucker had five catches for 60 yards, including a couple big late-game receptions. You can't ask for much more.
Luther Hakunavanhu also had three catches for 58 yards, while Tre Odoms-Dukes had four catches for 63 yards.
This advertisement has not loaded yet, but your article continues below.
Those are young players who are short on experience and they all contributed in stressful, high-stakes situations.
It didn't wind up with a win and they'll be asked to do even more going forward, but they rose to their occasion.
Cameron Judge picked up his second interception in three games on Saturday. You just don't really expect that from a linebacker.
When you consider that Micah Awe had a pick in Week 2 against the Ottawa Redblacks, too, it says a lot.
The Stamps defence has generally been very, very good this season. At half-time, they'd gone six straight quarters without allowing a touchdown.
The second half wasn't quite as dominant, but perfection isn't the point. While the offence was struggling, the defence gave the Stamps a chance.
This advertisement has not loaded yet, but your article continues below.
Judge is a big part of that. He's been absolutely excellent so far this year.
If Logan is out, the Stamps are going to need to figure out what to do with their kickoff and punt returns.
Tommylee Lewis might be a part of the solution, but I also really like what we've seen from Clark Barnes.
The 2023 third-round draft pick returned one kickoff for 26 yards, and that only tells us so much, but he seems confident catching the ball and is clearly evasive.
You want Logan back there, obviously, but it would appear that the Stamps at least have options.
After the win over the Redblacks last week, GM/head coach Dave Dickenson specifically said the Stamps needed to put opposing quarterbacks under more pressure.
This advertisement has not loaded yet, but your article continues below.
By-and-large, there were improvements in that area on Saturday evening.
Derek Wiggan and James Vaughters both had sacks – the first of the season for the Stampeders – and Julian Howsare deflected a pass that led directly to an interception.
The Riders had a lot of success on the ground, with Jamal Morrow running the ball 22 times for 133 yards, so it wasn't all positive defensively, but there was definitely a lot of positive progress with putting Trevor Harris under pressure.
Honestly, I don't know that the Riders are pushing either the B.C. Lions or Winnipeg Blue Bombers for the top spot on my internal power rankings right now, but they're better than some of us might have been expecting heading into the season.
This advertisement has not loaded yet, but your article continues below.
Harris is a consummate pro behind centre and brings a level of composure that has to be respected, while their receiving corps has a couple nice pieces and Morrow looked really great on Saturday.
Their defence makes you pay, too. Calgary fans might want to blame Maier for the interceptions, but the Riders had to make plays.
Last year was a circus in Regina, but there's something different about them this year.
A bye-week isn't going to just miraculously heal the injured Stampeders, but a little bit of time off can't hurt this team.
They return for two straight road games against the Bombers on July 7 and then the Riders again on July 15. Those aren't going to be easy.
By the time they return to the confines of home for a game against the Redblacks on July 23, we should have a much better idea of who these Stampeders are and what they might or might not be able to accomplish this season.