Foster wins full house of Boys Group A individual national titles
June 25, 2023
Joe Foster of Albatross Diving Club took gold in the Boys Group A Platform event on the final day of the competition to make it a hat-trick of individual national titles.
There was excellent performances across the board in what was the penultimate event of this year's Swim England Diving National Age Group Championships.
But it was Foster who rose to the top of the podium to add to his club's medal tally.
His final dive made the difference and saw him finish with an overall score 281.60. Southampton's Ryan Spiteri (223.60) was the silver medal winner and Plymouth's Ben Hall (215.80) was the winner of the bronze.
Edinburgh's Matthew Marshall and Logan Soutar were presented with commemorative silver and bronze medals respectively for their performances.
One-two for City of Sheffield in final event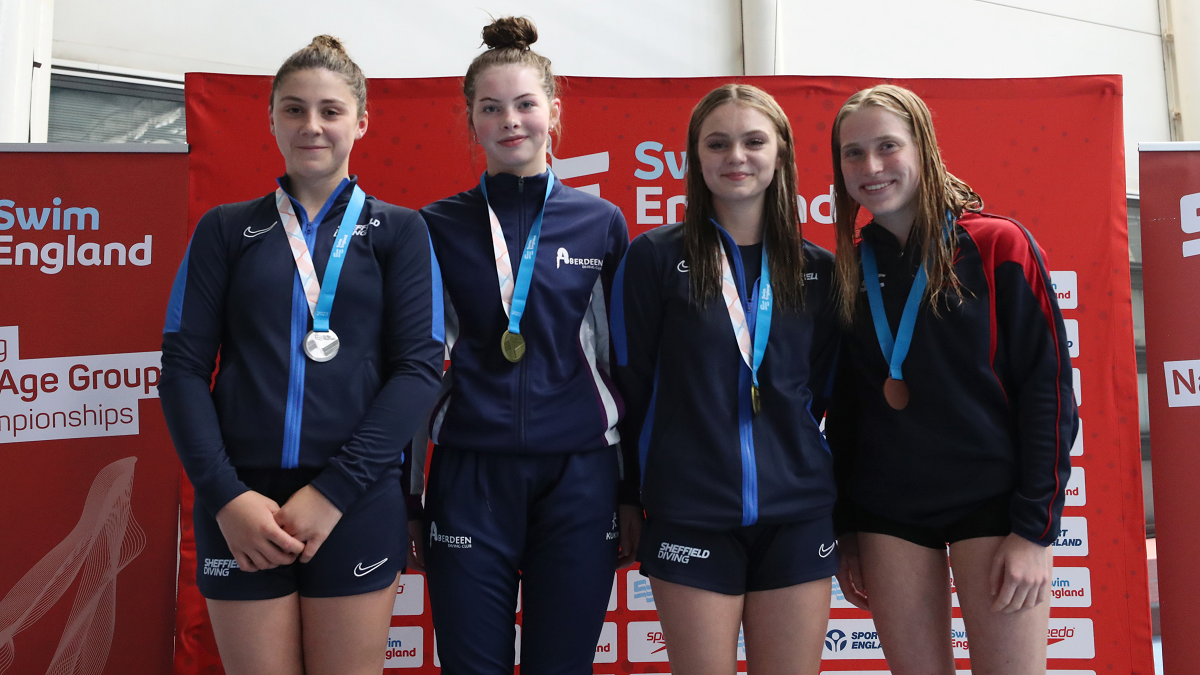 City of Sheffield managed a one-two finish in the final event of the competition – the Girls Group A Platform.
At their home pool, Jessica Ireland and Sophie Mae Hancox made sure the event ended on a high, taking gold and silver respectively.
And there wasn't much between the teammates, with Ireland racking up 254.20 points and Hancox just 2.20 behind with 252.00.
Taking the bronze medal was Dive London's Claire Kettler (251.40) and similar to the boys event, there was another platform commemorative medal awarded in the girls event.
Guest diver Niamh Rogerson of Aberdeen was the recipient of a commemorative gold after scoring 263.90 points.
Medals in three of four events for Sadie
Sadie Stratford of Southend Diving made it three medals from four events after winning the Girls Group B 3m event.
She earned a second gold after a score of 256.55, which rounded off her impressive form at this year's championships.
Her third medal was a silver, after finishing as runner-up in the Girls Group B 1m. A fourth place finish in the Group B Platform meant she narrowly missed out on podium places in all her events.
After Stratford had come second to Plymouth's Lexi Davies in the 1m, the roles were reversed this time around and it was Davies who took second with 243.65 points.
City of Sheffield's Chloe Strutt (239.40) collected the bronze medal and there were two commemorative medals awarded to two Edinburgh athletes.
Oksana Yevets received yet another medal – and her second gold – while Poppy Reid was awarded commemorative bronze.
Fantastic from Finn
Luton Diving Club's Finn McFarlane produced a fantastic set of dives to take the Boys Group B 1m national title.
McFarlane was top of the leaderboard after the first round of dives, and that's where he stayed as he cruised to gold.
His total score of 259.00 saw him finish more than 25 points clear. The next to make the podium places was Noah Havis (233.75) to claim another silver for Southend.
City of Leeds' Lucas Moseley (231.45) came third and stepping onto the podium alongside him to receive a commemorative bronze medal was Aberdeen's Ben Morrice.
Pictures: Morgan Harlow