Montreal Alliance return home for rematch with Edmonton Stingers in CEBL action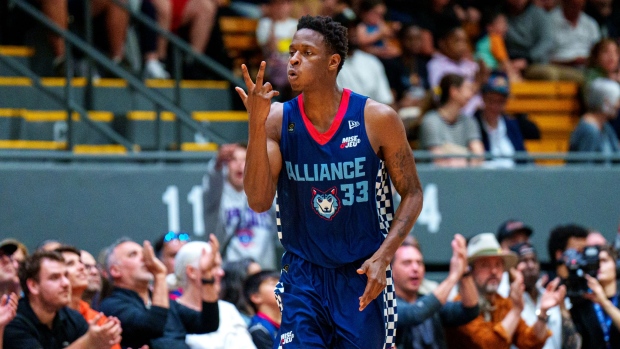 The Montréal Alliance will look to avenge last weekend's loss to the Edmonton Stingers with a rematch in their return to Verdun Auditorium on Sunday.
The game will be available for streaming LIVE on TSN+ beginning at 4 p.m. ET/1 p.m. PT.
The Alliance enter the game at 4-6 in fifth place in the Eastern Conference, just 1.5 games back of first place Scarborough. Edmonton comes in at 5-4 in second place in the Western Conference, also 1.5 games back of first place with Calgary and Vancouver on their tail.
Sunday's matchup with Montréal is the final outing in a three-game road trip on the east coast for Edmonton after losing to Scarborough 88-83 on Thursday and defeating Brampton 103-88 on Friday,
Meanwhile, Montréal is returning home after a road trip of their own. The Alliance went 2-2 in their four-game stretch away from Quebec with wins over Calgary and Ottawa, and losses to Edmonton and Niagara.
The Alliance will seek a different result against the Stingers after a 92-68 blowout at the Expo Centre last weekend. It was one day after Montréal snapped a losing streak against a tough Surge team in Calgary.
"They caught us on a back-to-back and they took advantage of us," Montréal head coach Derrick Alston Sr. said. "Honestly, they beat us up pretty good. I just think being at home with a few days rest, it'll be a different game."
Edmonton's Nick Hornsby flirted with a triple-double in last Saturday's win over Montréal with 11 points, 10 rebounds and eight assists. He was one of five Stingers to score double-digit points in the victory.
The Alliance continued to miss their star point guard Blake Francis against Edmonton, who has now missed almost four games with an injury. Montréal had a hard time solving Edmonton's defence, shooting 36 per cent from the field and 29 per cent from three to go along with 18 turnovers.
Francis is expected to miss Sunday's contest as well. The Alliance will continue to rely on the trio of Ahmed Hill, Treveon Graham and Nathan Cayo to pick up the slack in his absence. Hill was spectacular in Montréal's last game against the Ottawa BlackJacks. He scored 32 points and drilled the game-winning corner three in a target score comeback.
Hill says the four-game road trip brought the team closer together. He hopes the Alliance can gain some momentum as the season enters its second half.
"Our ability to stay patient and fight where everybody stepped up — we need the team to do that," Hill said.
Montréal brought pressure and showed an array of different defensive looks that troubled the BlackJacks on Thursday.
"That's how we have to survive, right? We're not the biggest team, our starting centre is still out, we're just trying to find ways to keep other teams guessing a little bit to help us out – get our defence [going] and maybe help us to transition a little bit," Alston Sr. said.
Meanwhile, Edmonton's offence is tough to stop. With a wealth of talent and no obvious number-one option, anyone can have a big night offensively. Hornsby, Brody Clarke, Aher Uguak, Isaiah Osborne and Adika Peter-McNeilly all average over 10 points per game for the Stingers, with Geoffrey James, Martynas Varnas and Elijah Miller not far behind.
"I think we're very difficult to defend because we have a bunch of guys that can put the ball in the basket on any given night. We're not reliant on one star player scoring 25 a night for us to be successful," Edmonton head coach Jordan Baker said.
In their last outing against the Honey Badgers, it was Osborne, Hornsby, Varnas and Miller stepping up while Uguak and Clarke struggled.
"Guys have an off night – it's the reality of basketball. When that happens, we don't flounder, we don't struggle. We're able to pick up the slack with our other key guys," Baker said. "That just speaks to our unselfishness as a group."
The Stingers return home on Thursday for a rematch with the Shooting Stars at 7:30 p.m. MT.  Meanwhile, Montréal continues its homestand in a meeting with the Saskatchewan Rattlers on Wednesday.