P!nk 'honoured and happy' at second Hyde Park show
The American superstar, 43, delivered a dazzling headline set at British Summer Time (BST) Hyde Park festival on Sunday to an animated crowd, after a similarly high-octane performance on Saturday.
Wearing a bejewelled leotard to start, the singer opened her second show of the London festival with her hit Get The Party Started, dropping onto the stage in a harness at heart-stopping speed.
She continued breathtaking acrobatics and fireworks throughout the show, flying above the heads of thousands of fans during her second encore of So What, taking to the sky with a shout of: "I'm coming to see y'all in the back!"
The show – part of P!nk's Summer Carnival tour – saw the Trustfall singer perform beside a giant, sparkly, rainbow beach ball and what appeared to be a huge spiky ice cream cone on the stage while dancers occasionally bounced dizzyingly high on trampolines.
P!nk was talkative and peppy throughout, and after her fourth song – Just Like a Pill – she said: "I'm so happy, it's so nice! The sunset, it doesn't get better than this."
"So honoured and so happy to be here with you guys," she told the crowd, before adding "thanks for the breeze also" after temperatures soared on Sunday.
During the performance, P!nk was handed a number of gifts, including soft toys, flowers, a collage and a T-shirt thrown onto the stage.
Hit after hit followed during the two-hour show, including classics Raise Your Glass and Just Give Me A Reason, along with multiple costume changes.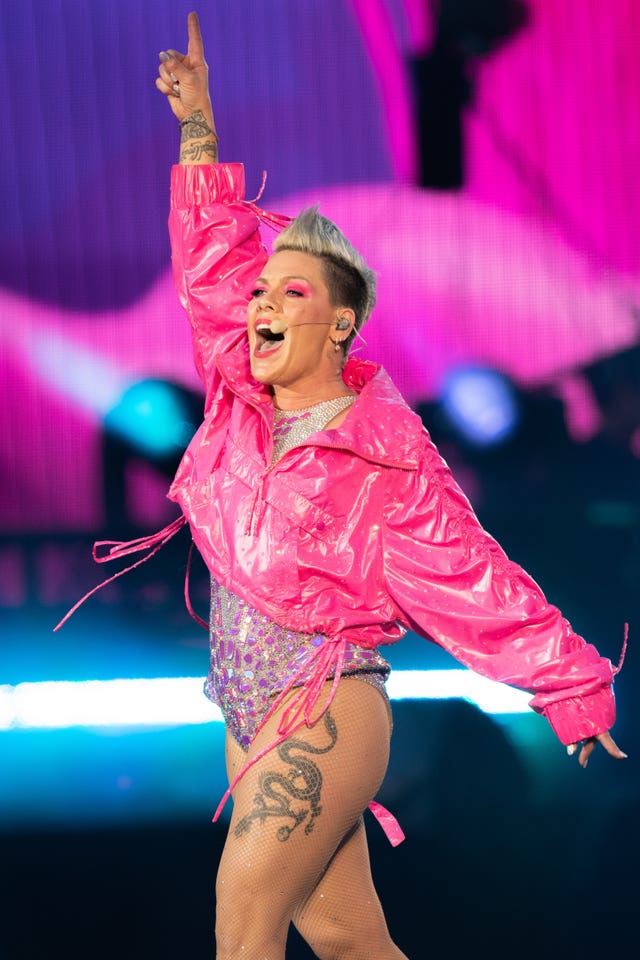 An emotional performance of P!nk's song Turbulence was briefly delayed by an apparent issue with the harness equipment, but the singer remained in high spirits.
"I'll just do an interpretive dance if this doesn't work… I was just going to sit here and tell jokes," she told the crowd.
After telling the harness "you better work", P!nk was soon back in the air, swinging around and hanging from her ankles.
The singer joked with the crowd ahead of a performance of the Adele hit Make You Feel My Love, describing it as one of the songs she wishes she had written.
"I also wish I wrote Baby Shark, I could give everyone here a yacht," P!nk added.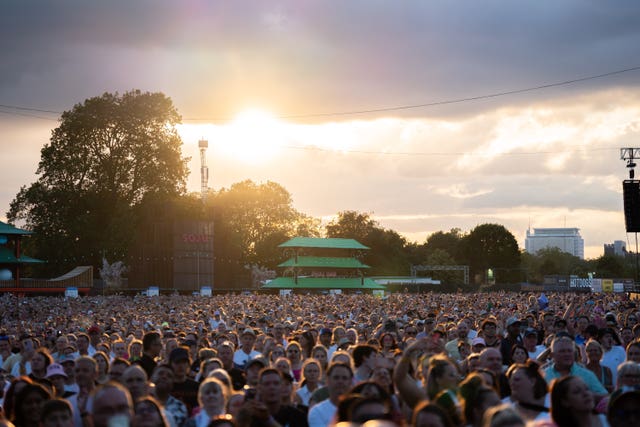 After the rousing cover of the Adele hit, featuring P!nk at the piano, the singer said: "Did somebody just propose or pass out?"
Once told it was a proposal, she continued: "Was it a yes? Congratulations! I'm sure it's going to be a lot of fun."
At one point, P!nk and her daughter Willow Sage dueted on their 2021 upbeat song Cover Me In Sunshine, as they had done during Saturday's sold-out Hyde Park performance.
"She's so good! She's so good," P!nk told Sunday's crowd to cheers.
As part of her Summer Carnival tour, P!nk has visited Sunderland and Birmingham, before her headline spots at BST.
BST has also seen performances from Sam Ryder and Gwen Stefani, who P!nk described as one of her "she-roes".