Review: 42ND STREET, Sadler's Wells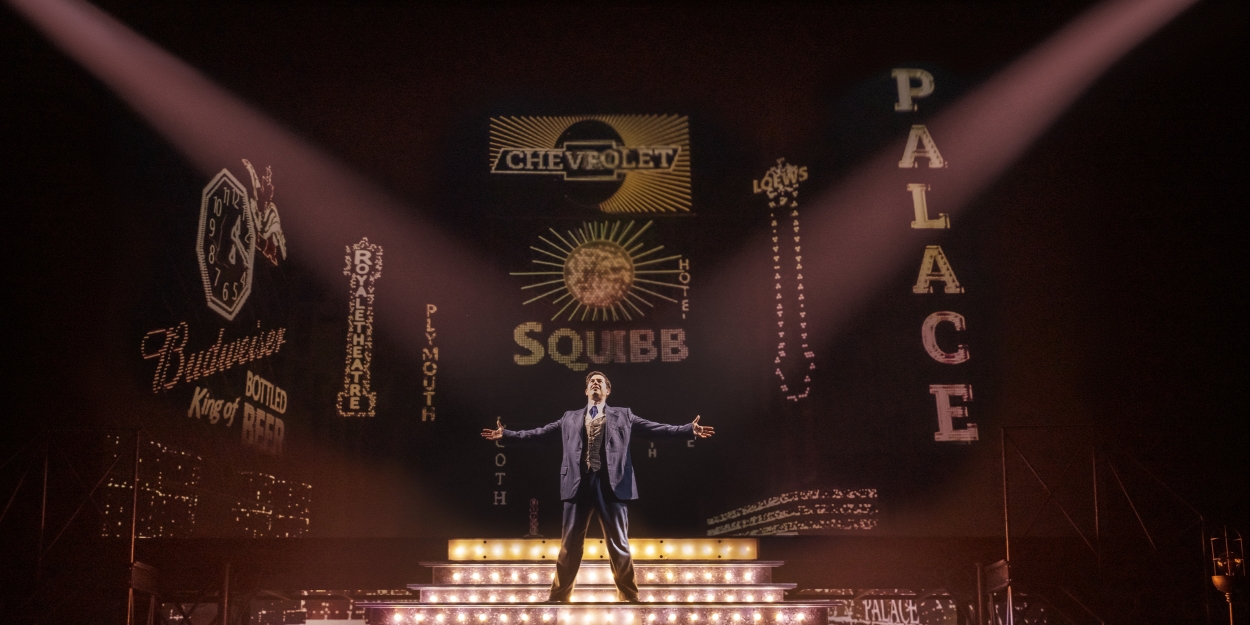 "You're going out a youngster, but you've got to come back a star!" Ever since the pandemic forced theatres to close, then threw their return into jeopardy as actor after actor tested positive for COVID, and performances were either cancelled or more cover than normal was called on at short notice, the importance of the understudy has been back at the forefront of theatregoers' minds. This is one very good reason for a new production to be mounted, just four years after the Theatre Royal Drury Lane version closed its doors.
Set in 1930s New York, 42nd Street focuses on the fortunes of legendary director Julian Marsh's brand new show, Pretty Lady, from out-of-town tryouts to Broadway – via an injured leading lady. Wannabe stage star Peggy Sawyer finally musters the courage to go into the audition room, only to find that she's too late: all of the roles have been cast. After this run of bad luck, however, Peggy's fortunes change and she finds herself in the chorus after all; with every role now definitely filled, the company (led by veteran Dorothy Brock) head down to Philadelphia for the show's first run. But when Brock takes a tumble in the middle of a number, the future looks bleak for Pretty Lady…
Another pertinent reason for reviving this musical after a relatively short absence is the time in which it is set; America is in the grips of the Great Depression, so jobs are short and money is tight. This can be a forgettable aspect of the story, however Jonathan Church's production ensures that this is in our minds from the outset, projecting a series of films depicting the reality of New York in 1933 onto the curtain as the overture plays. This all ties in very neatly with the cost-of-living crisis currently afflicting the UK, as well as the flak the arts continue to take from a government that doesn't understand their worth.
This is translated well by Robert Jones' designs, which are flashy enough to denote the glamour of a Broadway show and incorporate classic elements of Art Deco design (such as the sunburst), but are also simple enough to suggest straitened times – and presumably have an element of practicality towards them, given that this is a touring production. This is paired excellently with Ben Cracknell's lighting design, which is key in providing emphasis at certain moments and used to create beautiful effects in others.
Talking of beautiful effects, Bill Deamer's choreography is dazzling and energetically performed by a talented cast. Though still full of the expected tap numbers, the show's repertoire is fleshed out with a number of other dance styles during different songs; a masterful array of steps is set to the music of Harry Warren, whose compositions (with lyrics by Al Dubin) are familiar favourites to musical theatre fans everywhere. With routines like these, it's apt that the tour has stopped off for this run at London's dance-centric Sadler's Wells.
There are dynamic and engaging performances from Adam Garcia as the domineering director Julian Marsh and Ruthie Henshall as the prima donna Dorothy Brock – plus Les Dennis and Josefina Gabrielle make a fine double act as Pretty Lady co-writers Bert Barry and Maggie Jones. Sam Lips, too, is a lot of fun as Peggy's leading man, Billy Lawlor.
It is, however, Nicole-Lily Baisden who (quite rightly) steals the show as ingenue Peggy Sawyer. Her dancing is top notch, she can belt out a tune with the best of them, and she is an instantly likeable presence. Baisden's Peggy is goofy and good-hearted – but not so earnest and naïve that the audience can't relate. It's also thrilling to see that this production has corrected the gargantuan error of the Theatre Royal Drury Lane version and has Baisden take the last bow rather than the more well-known actors in the company – after all, Peggy's the star now.
On the whole, this is a hugely enjoyable piece of good old-fashioned musical theatre that taps all the right boxes.
42nd Street runs at Sadler's Wells until 2 July
Photo credit: Johan Persso