Sir Elton John to close Glastonbury with 'completely unique' set
The Rocket Man singer will give a historic performance to close the 2023 festival on Sunday night, with a show that has been billed as the final UK gig of his farewell tour.
Speaking to the Glastonbury Free Press, the festival's on-site newspaper, Eavis said: "What a send-off that's going to be. I cannot wait to welcome him in and show him what Glastonbury is all about."
In an interview on Saturday, she told the newspaper, which published editions on Thursday and Sunday, that Sir Elton had been "very involved".
She said: "We have so many artists playing here and often we don't have much direct contact. But Elton has been very involved and we've worked really closely. He's so excited and engaged with what Glastonbury is."
Eavis revealed the singer had called her "out of the blue" too, saying: "Which has been quite surreal. Standing there in the farmhouse chatting to Elton while trying to get the kids ready for school, or whatever. But he's been absolutely lovely.
"He's been carving out a set that's going to be completely unique to Glastonbury.
"I love his love for doing that. I don't want to give anything away, but it's going to be amazing."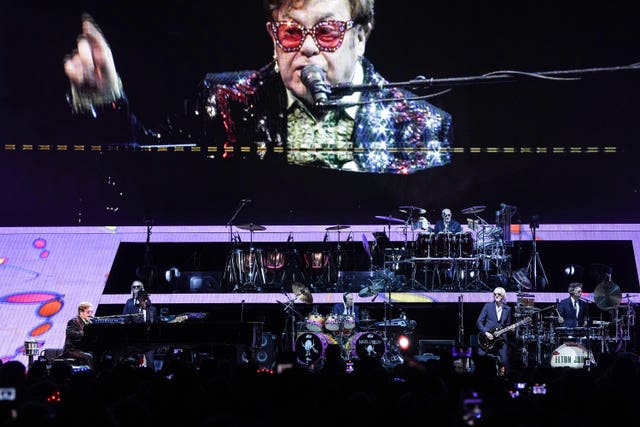 The veteran musician, 76, has promised fans an entirely new show that will feature four "special guests" who are yet to be confirmed.
After travelling the globe on his marathon Farewell Yellow Brick Road tour over the past few years, Sir Elton has said Glastonbury would be a "fitting way" to say goodbye to his British fans.
Throughout the tour, the megastar has treated fans to elaborate shows filled with extravagant costumes, spectacular visuals and classics from his catalogue including Tiny Dancer, Rocket Man, and Your Song.
Speculation about his guests has been rife after his husband David Furnish revealed the news earlier this week, with fans theorising he may be joined on stage by Harry Styles, Billy Joel, Ed Sheeran, or even US pop star Britney Spears.
Dua Lipa is also an option, having already appeared on stage during Sir Elton's final US show at the Los Angeles Dodger Stadium last year, alongside Brandi Carlile.
Temperatures are due to stay high again on Sunday, though Sir Elton's headline performance may be at risk of rain, with the Met Office warning of an "increasing risk of showers" into the evening.
A spokesperson for the Met Office told the PA news agency conditions would be "warm and largely dry, with sunny spells" for most of the day, and temperatures are expected to reach 25C.
Other acts playing on the Pyramid Stage on Sunday include Blondie, Lil Nas X and Yusuf/Cat Stevens, who will be filling the coveted tea-time legends slot.
South African band The Joy were due to open the Other Stage on Sunday but have had to pull out of their 11am slot at the last minute, with Mother Sky replacing them.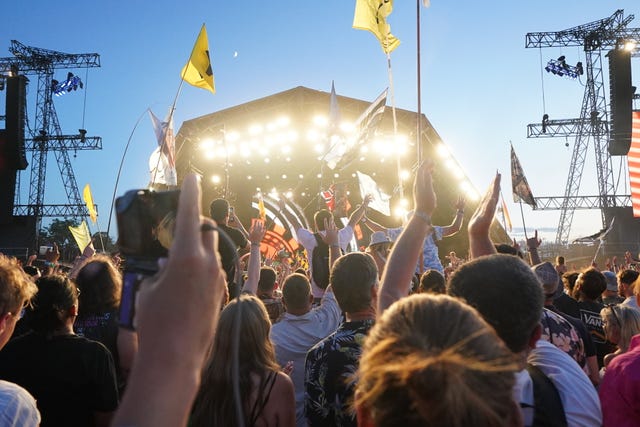 Saturday saw another batch of big-name performers take to the stage, including mainstage headliners Guns N' Roses, who made their debut at the festival.
The US rockers, consisting of Axl Rose, Slash and Duff McKagan, powered through their extensive catalogue during their two-hour-plus set playing hit tracks including Live And Let Die, Knockin On Heaven's Door, Sweet Child O Mine, and November Rain.
To close the set they invited Foo Fighters frontman Dave Grohl on stage to help play an explosive rendition of Paradise City.
Grohl had appeared earlier on Saturday as a guest for The Pretenders, having also previously performed a secret slot with Foo Fighters on Friday.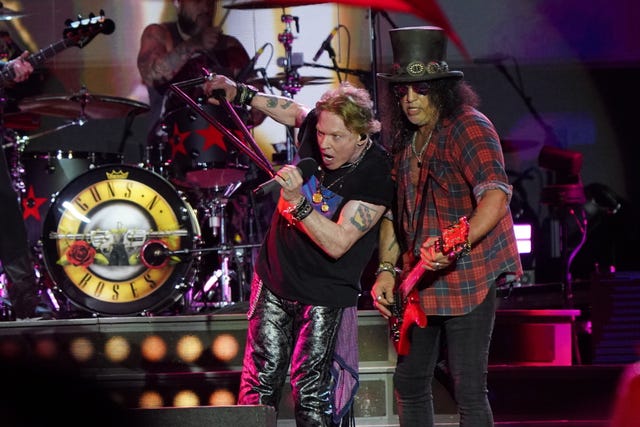 On The Other Stage, US singer Lana Del Rey was forced to lead fans in an a cappella performance of her final song Video Games after power to her microphone was cut.
Del Rey apologised profusely to fans, urging them to help her sing the track and then going down to meet and greet them, after having started the set 30 minutes late.
The delay came after reports the Born To Die singer was not impressed she was not initially billed as the main act on the stage for Saturday on the first line-up poster.
The poster had been listed in alphabetical order, with Del Rey featuring further down but not marking her out as the headline act for The Other Stage.
Del Rey was also beset with an apparent technical difficulty during her performance, which forced her to restart her song White Mustang, and later skipped over performing Venice Bitch.
Earlier on Saturday, Rick Astley opened the Pyramid Stage, performing a Harry Styles cover and also showing off his drumming skills as he made his debut at the festival.
Tilda Swinton joined composer and pianist Max Richter on the Park Stage to provide spoken word alongside his classical set, and Labour's shadow climate secretary Ed Miliband appeared on a panel in a talk called One Minute To Midnight: Can Politics Deliver On Climate Action?.