Teenage refugee from Ukraine awarded for church contributions in Devon awards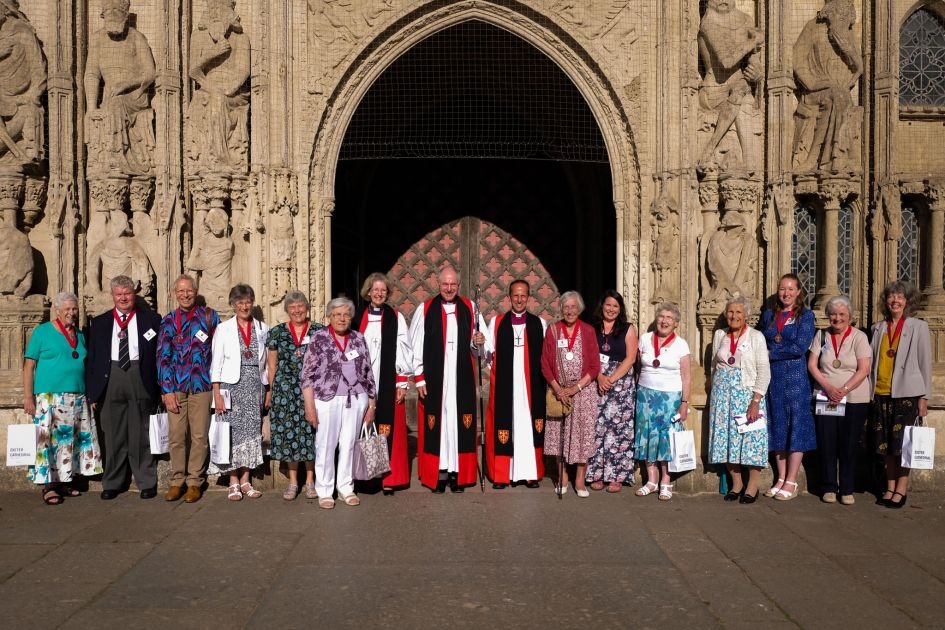 A teenage refugee from Ukraine has been honoured for his work in churches in Exeter Cathedral's annual award.
16-year-old Danil Taktamyshev, who attends St Matthias in Torquay, was recognised for his work with fellow young Ukrainians after moving to the UK following the Russian invasion.
However, he was unable to receive the award in person as he has since returned to Ukraine. 
This year's St Boniface Awards, which celebrate the unsung heroes of Devon's Anglican churches, took place during a service at Exeter Cathedral on Saturday 24 June. 
Sixteen individuals from churches across Devon were admitted into the Company of St Boniface.
Thirteen of the recipients attended the service and were presented with a medal by the Bishop of Exeter. 
They included a mother-of-three who trains church volunteers to run antenatal classes, a former engineer who created a bell-ringing simulator to train new bellringers, and a woman who helped save her church from closure, growing the congregation from nine to 40 people.
Named after Devon's patron saint, Boniface, who was born in Crediton, the awards aim to honour church volunteers who go above and beyond "to serve the people of Devon with joy." This marks the fourth year that the awards have taken place.
The Bishop of Plymouth, the Rt. Rev'd James Grier, said in his sermon: "These people are exceptional examples of what should be everyday life for Christians, they are the cream of the crop.
"We want to be people whose faith results in action, it doesn't matter if we are 'successful' or not, we just keep plodding-on, keep going back to where we are called, keep serving."
A Monthly Gift Of $11 Makes A World Of Difference
In a world of fake news there's never been a greater need for quality Christian journalism. Premier's mission is to provide the Church with the most up to date and relevant news, told from a Christian perspective. But we can't do it without you.
Unlike many websites we haven't put up a paywall — we want to keep our journalism free at the point of need and as open as we can. Premier's news output takes a lot of time, money and hard work to produce. No one in the USA is sharing news like we are across radio, magazines and online so please help us to continue that today.
For a monthly gift of $11 or more we'd also be able to send you a free copy of the brand new Premier Bible, a wonderful Anglicised version of the NLT packed with exclusive bonus content, reading plan and resources to help you get the most out of scripture.
Your monthly support will make a world of difference. Thank you.
Support Us