US rockers Blondie deliver electric set ahead of Lil Nas X and Sir Elton John
Frontwoman Debbie Harry commanded the stage throughout the performance on the main stage while dressed in a black sequinned skirt and jacket paired with dark visor sunglasses and thigh high boots.
They launched their set with hits One Way Or Another, Hanging On The Telephone and Call Me.
Harry addressed their crowd afterwards, saying: "Good afternoon, good evening, good day, good night. Thank you, it's very nice to be here, I hope you're all having a lovely time.
"We had to get those phone songs out of the way because none of it is relevant today, we all have our phones in our pockets."
The rock band continued to rattle through hits Will Anything Happen, Rapture and Atomic – which ended with one of the guitarists playing his instrument behind his head.
They later changed to a more joyful sound as they moved on to The Tide Is High, with Harry getting the audience to sing back the tune at one stage, describing it as "so pretty".
Before launching into their track Maria, she said: "All right, all you girls out there. All you girls who want to be girls, all you boys who want to be girls. Anyone who wants to be a f****** girl."
The frontwoman also reflected on Blondie's relationship with Glastonbury as they returned to the festival after playing in 1999 and 2014.
She told the crowd: "We've got a long track record with you guys so thank you very much for that."
As the set drew to a close, Harry donned a jacket decorated with fragmented glass to sing chart-topper Heart Of Glass before ending with Fun and Dreaming.
Lil Nas X is set to follow the rockers on the main stage for what is expected to be a theatrical show.
Across the festival site on The Other Stage, singer Becky Hill fought back tears while she delivered a typically high-energy set.
The 29-year-old repeatedly told herself "don't cry" before addressing the crowd of thousands after her performance of Last Time.
Donning an outfit scattered with yellow smiley faces, she thanked the Eavis family for having her at Worthy Farm, before later adding: "This is a truly life-changing moment for me. I get Glastonbury now and I'll be back every single year as long as I can be."
Before Blondie took to the main stage, Yusuf/Cat Stevens played the prestigious tea-time legends slot, taking festival-goers on a melodic journey through the ages during the set.
The folk singer-songwriter, 74 also hailed the NHS and critiqued ongoing wars across the world during the performance, saying his solution to the conflicts was to "lock all the leaders up in London Zoo".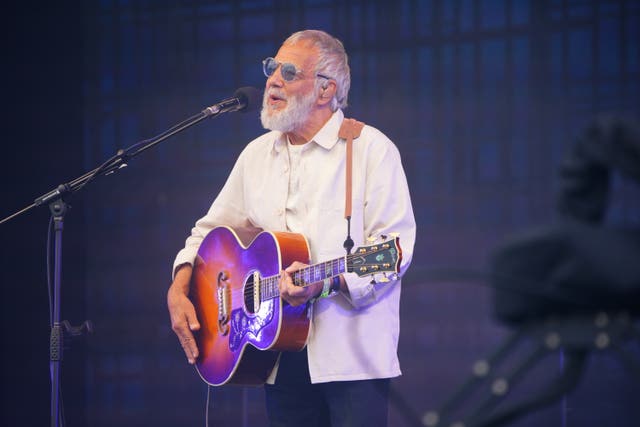 He also paid tribute to fellow world-class musicians including the late George Harrison and Nina Simone during his set, describing them as inspirations for him.
Sir Elton John is set to give a historic performance to close the 2023 festival on Sunday night, with a show that has been billed as the final UK gig of his farewell tour.
Glastonbury co-organiser Emily Eavis teased details of Sir Elton's Pyramid stage show in an interview with the festival's Free Press newspaper, saying the singer has been "carving out a set that's going to be completely unique" to the festival.
She said: "What a send-off that's going to be. I cannot wait to welcome him in and show him what Glastonbury is all about."
Eavis told the newspaper, which published editions on Thursday and Sunday, that Sir Elton had been "very involved".
"We have so many artists playing here and often we don't have much direct contact. But Elton has been very involved and we've worked really closely. He's so excited and engaged with what Glastonbury is," she said.
Eavis revealed the singer had called her "out of the blue" too, saying: "Which has been quite surreal. Standing there in the farmhouse chatting to Elton while trying to get the kids ready for school, or whatever. But he's been absolutely lovely.
"He's been carving out a set that's going to be completely unique to Glastonbury.
"I love his love for doing that. I don't want to give anything away, but it's going to be amazing."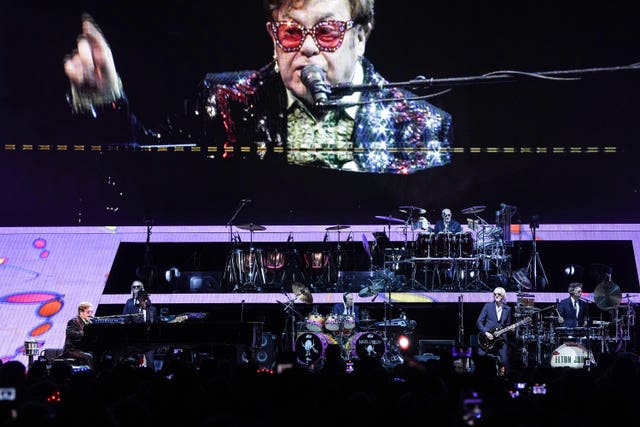 The veteran musician, 76, has promised fans an entirely new show that will feature four "special guests" who are yet to be confirmed.
After travelling the globe on his marathon Farewell Yellow Brick Road tour over the past few years, Sir Elton has said Glastonbury would be a "fitting way" to say goodbye to his British fans.
Throughout the tour, the megastar has treated fans to elaborate shows filled with extravagant costumes, spectacular visuals and classics from his catalogue including Tiny Dancer, Rocket Man, and Your Song.
Speculation about his guests has been rife after his husband David Furnish revealed the news earlier this week, with fans theorising he may be joined on stage by Harry Styles, Billy Joel, Ed Sheeran, or even US pop star Britney Spears.
Dua Lipa is also an option, having already appeared on stage during Sir Elton's final US show at the Los Angeles Dodger Stadium last year, alongside Brandi Carlile.
A musical group celebrating the descendants of the Windrush generation opened the main stage on Sunday.
The Bristol Reggae Orchestra and Windrush Choir, a musical group from Bristol which celebrates the Windrush generation and its descendants, kicked off proceedings with by performing songs including Home and Windrush Child.
The appearance comes as the festival takes place this weekend 75 years after the Windrush generation arrived in the UK.