British women show a positive response after the low of a Paris no-show
The doom and gloom surrounding the complete absence of British players from the women's singles draw at the French Open has given way to a raft of positive results on grass.
Katie Boulter defeated Jodie Burrage to win her first WTA title in Nottingham in the first all-British tour final since the 1970s while there have also been encouraging performances from Harriet Dart, Heather Watson and Katie Swan.
Boulter's title has lifted her back into the top 100, which also doubles as the rough cut-off for entry into grand slams, but the 26-year-old believes a bigger-picture view is needed.
"I think we put a lot of emphasis on being ranked inside 100 and I'm not entirely sure if I personally agree with it," she said.
"I think we need to continually look at the amount of players we have coming through and stay positive. Because, if we go down the negative route, we can always find something.
"Each and every one of these girls can be inside 100. I think we should be asking questions if we don't have anyone who can be.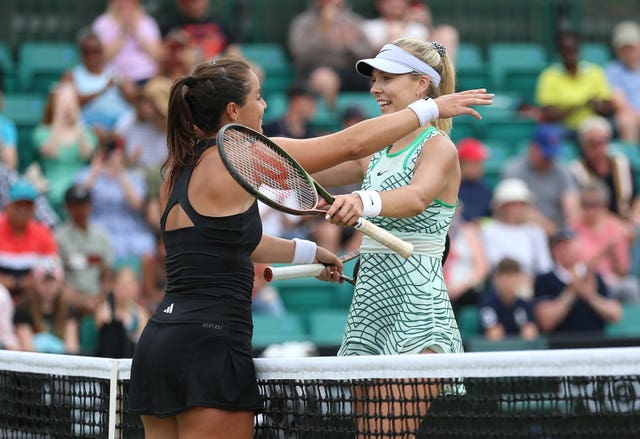 "These girls are getting wins against top-100 players but everyone's individual and they have to work on what they need to do. I've got a lot of work to do inside or outside the top 100."
It has been 40 years since Britain had anything approaching strength in depth, and the sport is far more global now than it was then.
While the men appear to be doing better – with four players in the top 100 and consistent performers in Andy Murray, Cameron Norrie and Dan Evans – there are actually six British women in the top 150 compared to five men.
And four of the top five women are aged 26 or under, whereas that is only the case for one man – 21-year-old Jack Draper, who will miss Wimbledon with the latest in a series of injuries.
The British women have mostly been rivals since their junior days and the hope, along with a strong return from injury for Emma Raducanu, must be that they can push each other up the rankings.
Boulter certainly sees it that way, saying: "It means everything for all of us. I think that's why we're such a good group of girls because we keep pushing each other on. I hope we can continually do that. I think there's a lot more to come for all of us."
Dart looked to have broken clear of her peers last year when she moved into the top 100 but this year had been a struggle prior to the grass season, with the 26-year-old plummeting down the rankings.
She has found form and confidence at home, reaching the quarter-finals in Nottingham – where tension at the net after she lost to Boulter took the headlines – and Birmingham.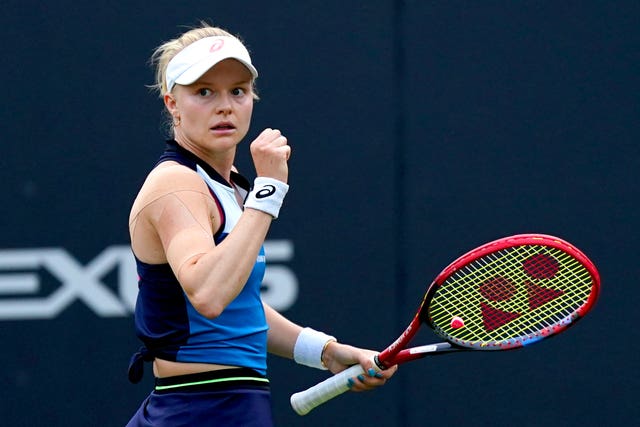 Asked about the rivalry between the British women, Dart said: "We're all on our different journeys. I've had a bit of a dip in form. Last year was a good year for me. I'm trying to regain that form.
"I don't see myself in competition with anyone else, just myself. It definitely shows me that my level is there. I've just got to, week in, week out, keep putting it out there. The grass season is so short and the most important thing is the whole year."
Dart is right not to focus too much on grass-court results because, while clay probably gives an overly negative impression of the state of the British game, the reverse is true for grass, which a lot of players from other countries are inexperienced and uncomfortable on.
The 26-year-old, meanwhile, revealed that she is still searching for a permanent coach after a trial with Frenchman Morgan Bourbon did not work out.
Dart, who split from Nigel Sears last year, is working with Colin Beecher on the grass while his regular charge Kyle Edmund continues to recover from a wrist injury.
Edmund's dreadful luck unfortunately shows no sign of improving, with the 28-year-old finally back on court after years of knee trouble only to suffer a separate problem just before the French Open.
Dart said: "I've been really fortunate that Colin has been able to have the time to do this grass-court season with me. It's been really tough on Kyle with his injuries but I'm really grateful that he allowed him to come and work with me.
"I'm back to square one. For sure I'm looking for someone long term so I can get that consistency. It's very challenging, to say the least.
"There's not that many people out there, a lot of people are taken and are in long-term partnerships. But I'll keep looking and you never know, sometimes post-Wimbledon people can become available."