What happened to Brighton Women in a turbulent 2022-23 season?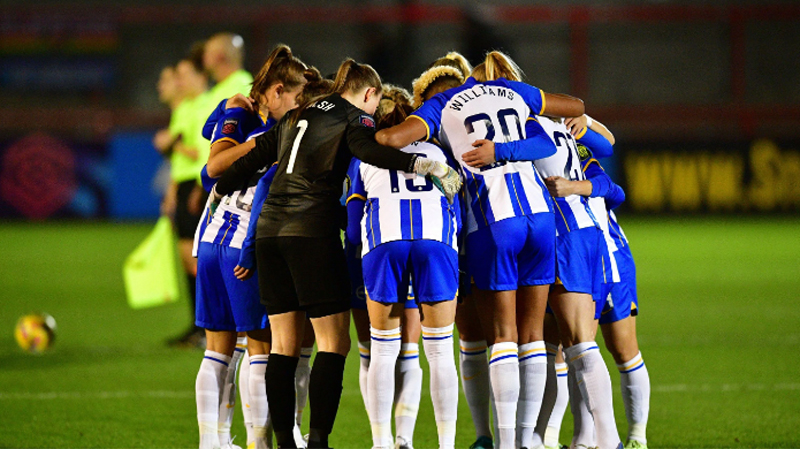 The word turbulent offers probably the best description of the 2022-23 WSL season for Brighton & Hove Albion Women.
Four different managers, a drop of four league places from 2021-22 and safety from relegation out of the top division only confirmed thanks to Reading losing to Spurs on the penultimate weekend of the season.
What happened? And what lessons can be learned with the women looking some way at current from reaching Tony Bloom's stated target of regular top four finishes in the WSL?
Four different managers
It seems a long time since Hope Powell was the Brighton manager. Five games into the season and a 8-0 defeat to Spurs ended her five years in charge of the Albion.
Brighton Women had lost four of those five opening matches of 2022-23. 19 goals had been conceded. Just two had been scored, both in the Albion's only win when Reading were beaten 2-0 at the Amex.
Powell was quoted after the Tottenham game: "We've had a very challenging start to the new season with many changes to our squad and results not going as we had all hoped. Sunday's heavy loss at home to Tottenham was particularly disappointing."
Whereas the men's team had a clear succession plan in place when Graham Potter left and Roberto De Zerbi was appointed, the women's team appeared much less organised.
Powell's assistant Amy Merricks took charge for her first spell as interim manager. The Athletic described what was happening behind-the-scenes whilst Merricks was at the helm: "An exhaustive two month search was conducted with women's football specialist head-hunters, Nolan Partners. Their expertise supplemented the club's own data."
Merricks had three league games in charge during that two months, the highlight an amazing 5-4 win at West Ham United with Danielle Carter scoring twice.
On 28th December, the Albion finally made an appointment. It was a progressive-looking one, Jens Scheuer arriving on a three-and-a-half year contract.
Scheuer had left Bayern Munich earlier in the year. His time with Bayern included taking the German giants to the Champions League semi finals in 2021.
44-year-old Scheuer expressed his enthusiasm for the role during his first press conference, saying: "I'm very excited to work for the team and the club."
"The facilities are the best I have ever seen. I had good talks with technical director David Weir. The first time we spoke it was clear for me that I wanted to come here and build a team which can grow and move up the table. I'm very excited for the future and can't wait to get started."
Appointing Scheuer proved to be the biggest managerial misstep Brighton had made since Sami Hyypia in 2014. For both performances on the pitch and his alleged demeanour of it, Scheuer has presumably joined Gus Poyet in the He Who Must Not Be Named category, although Poyet obviously was very successful.
Scheuer was in charge for just six games. From his three WSL matches, the Albion gained a single point. The greatest light on what happened off-the-pitch under Scheuer came from an article in The Daily Telegraph.
According to anonymous sources: "Several of the staff and players were unhappy about the way Scheuer had been allegedly speaking to colleagues in meetings, on the training ground and the dressing room, and his dealing with players and other club employees."
Scheuer himself had expressed frustration on the club website after a catastrophic 6-2 home defeat to Aston Villa: "What I have learnt from this game is we can't go in a high press. It's not possible with this team."
Everything came to a head when Scheuer departed the Albion by mutual consent on March 6th 2023. Brighton Women were now just two points off the bottom and with Leicester City improving, there was a real danger the Seagulls could find themselves occupying the one relegation spot come the end of the 2022-23 season.
The Albion did at least have games in hand on those around them to try and pull away from danger. Merricks spent a further month in charge before the appointment of 35-year-old American Melissa Phillips on an initial two year contract to June 2025.
Phillips had joined London City Lionesses in the summer of 2020, taking them to top of the Women's Championship in January before returning to the US as an assistant coach at Angel City. Phillips already had connections with Brighton, her partner having worked for the Albion as an analyst under Poyet.
On her appointment, Phillips said she was excited to be joining the Albion: "I'm excited to be here and eager to get started. It's an amazing feeling to join this club and I'm looking forward to working with the team."
"I had positive talks with the club, and I knew it was the right decision to return to England. I am fully aware of our position, but confident we can grow and move up the table."
Phillips made a good start with her first game in charge probably the highlight of the season, a narrow 3-2 defeat at Manchester United in an FA Cup semi final most observers were expecting the Albion to be well beaten in.
In the WSL, Phillips oversaw two wins which proved enough to secure safety. Everton were beaten 3-2 early in her reign followed by a 1-0 victory at West Ham in which Brighton recorded their first league clean sheet since March 2022.
The Albion were helped out in the battle against the drop by Reading's form collapsing. The Royals picked up just one point in their last eight games. Merricks meanwhile left Brighton to become the new head coach of England Women Under 19s.
What went wrong for Brighton Women in 2022-23?
Defensively, the team suffered with the summer departures of Maya Le Tissier to Manchester United and Emma Koivisto to Liverpool whilst Dutch midfielder Inessa Kaagman joined PSV Eindhoven.
Replacements did come in. Joining permanently were full back Poppy Pattinson from Everton, midfielder Park Ye-Eun and forwards Veatriki Sarri and Elisabeth Terland.
Defender Jorja Fox was a loan capture from Chelsea, but sadly her season was ended prematurely in early May when she suffered one of the apparent epidemic of ACL injuries in the WSL during the 2022-23 season.
Glandular fever affected young midfielder Maisie Symonds but there was at least the most welcome return of New Zealander Rebekah Stott, in remission from her 2021 Hodgkin's lymphoma diagnosis.
Goal scoring has always been a challenge for Brighton Women in the WSL; they managed 26 in 2022-23, which was actually a rise on the 24 scored in 2021-22.
This lack of goals was made doubly problematic by things taking a notable downwards turn in defence. From 38 goals conceded in 2021-22 to 63 in 2022-23.
Interestingly, the shots on target faced number only rose moderately from 118 to 136. The shots on target saved percentage, however, fell from 68 percent to 54 percent, a figure 10 percent worse than any other WSL team.
Highlights
Amidst the difficulties there were two significant highlights. The aforementioned FA Cup semi final saw Brighton get within a minute of extra time against a United side featuring England Euro 2022 heroes Ella Toone, Alessia Russo and Mary Earps.
The other highlight was the inclusion of 20-year-old winger and Albion Player of the Season Katie Robinson in the Lionesses squad for this summer's World Cup.
21-year-old Norwegian forward Elisabeth Terland also offered some hope for the future, hitting a good spell of end of season scoring form.
| | | | | | |
| --- | --- | --- | --- | --- | --- |
| Brighton Women 2022-23 WSL Appearances | | | | | |
| Player | Pos | Age | Mins | Goals | Assits |
| Katie Robinson | FW, MF | 19 | 1,843 | 4 | 6 |
| Lee Geum-min | FW, MF | 28 | 1,687 | 3 | 2 |
| Julia Zigiotti Olme | MF | 24 | 1,670 | 2 | 1 |
| Emma Kulberg | DF | 30 | 1,536 | 0 | 0 |
| Poppy Pattinson | DF | 22 | 1,540 | 0 | 1 |
| Veatriki Sarri | MW, FW | 21 | 1,438 | 3 | 2 |
| Elisabeth Terland | FW, MF | 21 | 1,371 | 7 | 0 |
| Megan Walsh | GK | 27 | 1,350 | 0 | 0 |
| Zoe Morse | DF | 24 | 1,260 | 0 | 0 |
| Megan Connolly | MF, DF | 25 | 1,190 | 0 | 1 |
| Kayleigh Green | DF, FW | 34 | 1,131 | 1 | 2 |
| Jorja Fox | DF | 18 | 1,088 | 1 | 0 |
| Guro Bergsvand | DF | 28 | 741 | 0 | 1 |
| Libby Bance | MF | 19 | 691 | 0 | 0 |
| Danielle Carter | FW, MF | 29 | 825 | 5 | 1 |
| Lydia Williams | GK | 34 | 630 | 0 | 0 |
| Rebeka Stott | DF | 29 | 325 | 0 | 0 |
| Dejana Stefanovic | MF | 25 | 127 | 0 | 0 |
| Brianna Bisalli | MF, FW | 27 | 213 | 0 | 0 |
| Maisie Symonds | FW, MF | 19 | 142 | 0 | 0 |
| Park Ye-Eun | FW, MF | 25 | 38 | 0 | 0 |
| Chelsea Ferguson | MF | 17 | 27 | 0 | 0 |
| Lulu Jarvis | MF | 18 | 5 | 0 | 0 |
| Players in red italics will not be with Brighton in 2023-24 | | | | | |
Transfers
There always tends to be a high squad turnover in women's football with most players only on one or two year contracts. Brighton Women will need to recruit better this summer than they managed for the 2022-23 season to avoid another year of struggle.
Five players who have collectively made more than 400 appearances for the Albion have departed the club. Megan Connolly, Megan Walsh, Victoria Williams, Kayleigh Green and Carter all leave, along with Fox returning to Chelsea following her loan spell.
Phillips paid tribute to the departing stalwarts: "On behalf of everyone at the club, I would like to thank all five girls for their fantastic contributions during their time with Brighton and Hove Albion."
"I have only known them a short while, but they are all brilliant professionals with a wonderful work ethic. They have been a credit to themselves and the club as they have made a lasting impact on the foundation of Brighton women's football."
The Albion have already made moves to address their lack of goals, confirming the capture of 27-year-old forward Pauline Bremer.
With two Champions League titles to her name and spells with some of the biggest names in women's football including Wolfsburg, Manchester City, Olympique Lyonnais and Turbine Potsdam, the signing of Bremer appears to represent an excellent start to what will be a busy transfer window
It seems likely that Brighton will need to recruit at least a goalkeeper, defender and midfielder in addition to Bremer. In the second of those positions, the Albion have been heavily linked with 24-year-old Arsenal centre back Anna Patten.
Patten spent last season on loan with Aston Villa, who are also reported as "very keen" to secure her signing with her Gunners contract set to expire. Arsenal maintain an interest in keeping Patten, although she may turn down a new deal to seek regular first team football.
The future for Brighton Women
2022-23 undoubtedly saw Brighton Women take a backwards step from achieving the club's stated aim of breaking into the WSL top four.
Having finished a in a record-breaking sixth spot in 2020-21, the Albion have since slipped to seventh in 2021-22 and down to 11th in 2022-23.
Bloom has invested in creating top four training facilities with the opening in 2021 of a £8.5 million training facility at the American Express Elite Football Performance Centre.
But with increasing investment from United and Liverpool, becoming a top four club looks a real challenge. Chelsea, Manchester City and Arsenal had until this season been considered the "big three" in the WSL.
That has now been expanded this season to a new "big four" following United's challenge for the title and reaching the FA Cup final.
Despite the prospect of finishing in the top four looking much more difficult than it had when Bloom set out the ambition, the target remains according to Women's and Girls' managing director Zoe Johnson.
Johnson is quoted on the Albion website: "Melissa's appointment came at a real critical time for us, and she has made an impressive start to her time here."
"It has been good for her to get an understanding of the staff, the players, and of where we want to be in terms of the club's vision and the changes that need to be made as we move forward."
"This summer is classed as our next building block in terms of what we're trying to do, and we'll both sit down together, alongside other key members of staff, to look at our planning and preparation for next season."
"As a club, we're under no illusion of what's ahead of us; we know we're not going to make the top four overnight, but we need to keep pushing forward and keep making progress on that road to where we want to be."
A further positive this season has been increased crowds attending games at Crawley Town, despite which the Albion continue to state their desire for a ground in Brighton & Hove for the team.
As reported by Sussex Live, deputy chairman Paul Barber told The Albion Roar podcast that attendances needed to be between 10,000 and 15,000 to make using the Amex as the Women's home ground financially viable.
The capacity at the American Express Elite Football Performance Centre where the Under 21s play is only 1,000 and therefore far too small to accommodate the Women.
Barber said on the podcast: "We are certainly looking at different options. It's a real conundrum. Crawley have been great, they have been really good to us, so this is in no way intended to be a criticism of them but it's a long way from Brighton, relatively speaking, it's a red stadium not a blue stadium."
"It's not our stadium, we can't control it, and from that point of view, it isn't the ideal home for a Brighton team of any kind."
"On the other side of that coin, we have to meet WSL regulations. There isn't another stadium in Sussex that does outside of the Amex. And therein lies an issue."
"Why can't we use the Amex for every game? Well, the issue there is cost. There is a theory we build and they will come. Unfortunately with the women's game, internationals and Euros aside, we haven't yet got thatlevel of demand that gives us a good enough reason to open the Amex for every game."
"I would love to see a 10 to 15,000 attendance for our women's game and then I'd open the main stadium at the Amex all the time because then we would be able to justify it."
"Even if we only broke even, but we are such a long way from breaking even on women's games at the Amex, with one or two exceptions."
"We have got to find something in the middle and that is difficult because it would require a really, really substantial investment from Tony Bloom, way above anything that anyone else has done in the country, with the exception of Manchester City who have their mini stadium at their training ground and in between their stadium."
Peter Finn