Fire destroys Monroe County shopping center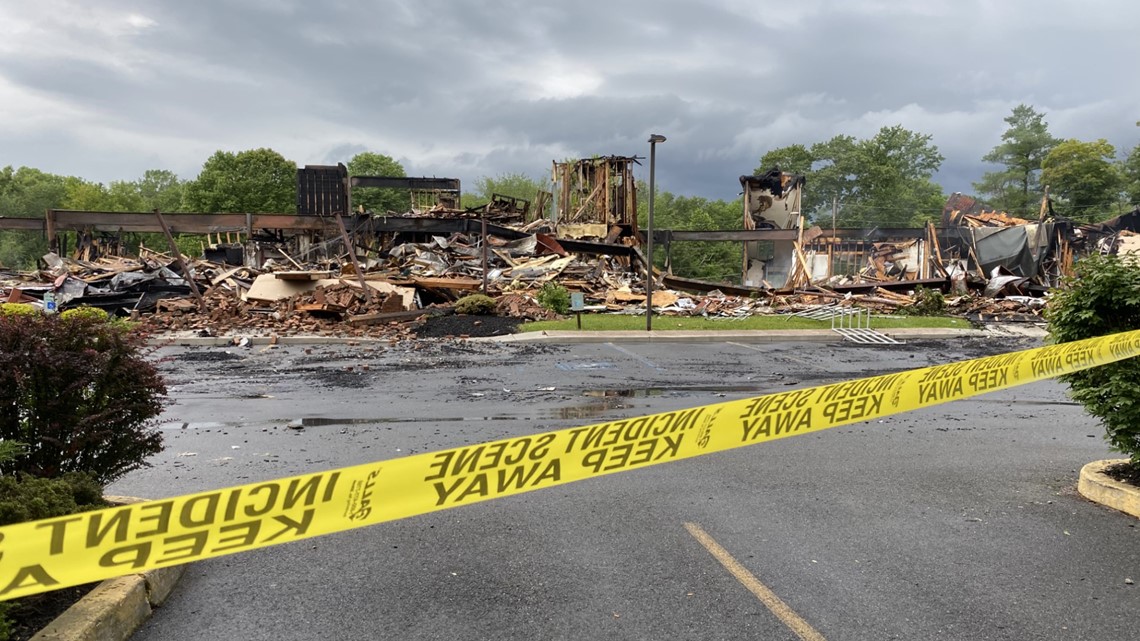 MONROE COUNTY, Pa. — Plumes of smoke and flames could be seen shooting from the roof at the Fountain Court Shopping Center near Bartonsville Sunday morning.
Firefighters worked tirelessly to get it under control, with more than a dozen businesses in jeopardy.
"It's like something happened to your baby. That's what it feels like, like something happened to one of your children," said Alvin Williams, Elegant Bridal co-owner.
Alvin Williams is the co-owner of Elegant Bridal.
He says 30 years of hard work went up in flames. 
"When you open a business, it becomes a big part of you. So when you get up in the morning, and you don't have this to come to, what do you do with yourself? It's a big loss," said Williams.
Officials say the fire started around 8 a.m. on the ground floor of the plaza.
Two dozen fire stations from Pennsylvania and New Jersey spent all morning and afternoon working to put out the flames.
But just as crews thought they had it under control, the fire reignited.
"All of a sudden, half of the roof went up in flames. And at that point, it was just over. It's my daughter's wedding next month and her wedding gown is one of the wedding gowns that's in that store. And we can't get in because the building hasn't been declared safe," explained Williams.
Anthony Purzycki is the owner of Trap Door Escape Room and Madness Distillery.
He says he stayed late on Saturday to prepare for crowds the following day.
"So we had people coming in for tastings, for drinks, we had people coming in for the experiences," said Purzycki.
Purzycki tells Newswatch 16 he got to the shopping center as soon as crews arrived on scene to see what could be saved of his business, "Luckily, one attraction is luckily still standing because it's in a separate building, but as a result, everything else is gone, our distillery production line is gone."
Both Williams and Purzycki agree they will not let the fire make their businesses come to an end.
"As soon as power is back from the building, and we're allowed to reopen, we'll reopen. I mean, this is summertime, this is when we pack," added Purzycki.
Officials believe the fire started in the escape room on the ground floor of the shopping center. 
A state police fire marshall has been called in to investigate the cause.
Original Story:
A shopping center in Monroe County is destroyed after a fire that sparked Sunday morning.
It started just after 7:30 a.m. at the Fountain Court Shopping Center along Route 611 in Pocono Township.
The Monroe County Communications Center tells Newswatch 16 more than 15 fire crews responded.
Fire crews were also called in from several other counties in the region, including Northampton, Lackawanna, Wayne, and even Warren County, N.J.
Officials say the fire reignited as crews worked for hours to put it out. 
All of the businesses in the plaza were destroyed.
There is no word on any injuries at this time.
Route 611 was shut down in both directions between Bartonsville Avenue and Serfas Drive for hours as crews battled the flames. 
Route 611 reopened around 5 p.m.
See news happening? Text our Newstip Hotline.