Movement at the station: Recent property listings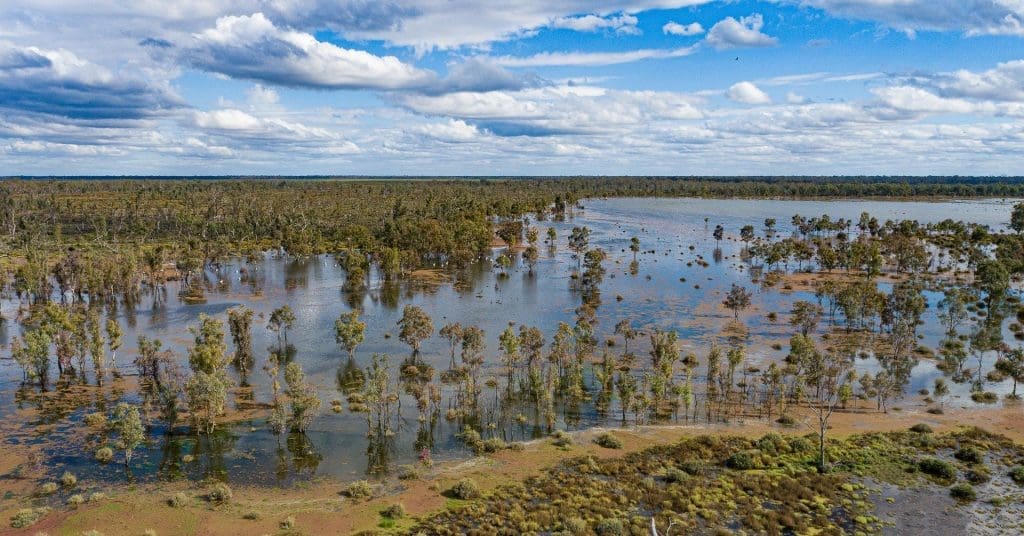 THIS week's property review includes this wrap-up of interesting recent listings across the country, and a separate article of recently relisted properties of note.
Southern Riverina aggregation returns to the market
Blue ribbon Victorian grazing & grain
Bullo River frontage & flood-out country
Dysart cattle breeding & finishing
NSW beef factory & fodder powerhouse
$15m+ for New England grazing
Northern Tablelands grazing block
Cattle + fodder in NQ
Mixed grazing & farming at Dulacca
EOI for CQ's Brackenhill extended
Southern Riverina aggregation returns to the market
More than $60 million is anticipated for a southern Riverina aggregation which is being offloaded by Nature Conservancy Australia and Tiverton Agriculture after four and half years of ownership.
The 34,114ha cattle backgrounding and timber harvesting enterprise, pictured above, comprises two contiguous holdings – the 27,499ha Juanbung Station and the 6615ha Boyong Station.
They were purchased in January 2019 from prominent Melbourne businessman Tim Roberts-Thomson for $57 million.
Situated 50km north-east of Balranald and 75km north-west of Hay, the aggregation has an estimated carrying capacity of more than 37,000DSE. Previously, it backgrounded 10,000 feeder steers a year.
Boasting 55km of Murrumbidgee River frontage and 18km of Lachlan River frontage, water is also secured by two bores, Lake Bunumburt, numerous catchment dams and seasonal swamps and waterholes.
Juanbung and Boyong Stations are underpinned by 16,000ha of the terminal flood plain delta of the Lachlan River known as the Great Cumbung Swamp.
The price includes a timber harvesting licence (expiring 2038) with sufficient resources for future harvesting from one the largest privately-owned River Red Gum forests in the world.
Additional income streams include the mustering of rangeland goats, as well as sustainable land use options for carbon offsets and biodiversity credits.
LAWD agents Danny Thomas and Elizabeth Doyle have been appointed to handle the expressions of interest process for Juanbung and Boyong Stations closing on July 13.
Blue ribbon Victorian grazing & grain
Locals through to corporates are showing interest in a blue-ribbon prime lamb, fine wool and winter cropping enterprise in Central Victoria's sought-after Goulburn Valley.
The 1456ha Castle Creek is 14km from Euroa and less than two hours from Melbourne, in a region renowned for its ideal climate, above average rainfall and diverse soil types.
The mixed farming operation comprises four holdings – 478ha Castle Creek North, 327ha Castle Creek South, 395ha Woods and 256ha Skinners – aggregated over 30 years by the Gross family.
Around 94 percent (1367ha) of the flat to gently sloping country is considered arable with fertile loam and clay soils.
The grazing area has a carrying capacity of 10,000DSE, with the current vendors running 4578 mixed sheep.
Castle Creek has a strong fertiliser history with soil testing, fertiliser, gypsum and lime applications undertaken on a regular basis to maximise productivity and retain optimum levels of meat and wool production.
The 452ha cropping area features a balance of introduced pastures and high-yielding winter row crops including wheat, canola, barley and oats.
Shane McIntyre from CBRE Agribusiness would not disclose a price guide, however it is understood the land and fixed improvements could achieve around $16,000 per hectare.
"Castle Creek is a turnkey operation that has been thoughtfully developed by the Gross family, including well-maintained fencing and state-of-the-art working facilities," he said.
Castle Creek is watered by three dams supported by 547,100 litres of water stored in multiple tanks.
It is being offered for sale as a whole or as four separate parcels via a two-stage expressions of interest campaign closing on July 5.
Bullo River frontage & flood out country
Thargomindah Station in south-west Queensland has been listed for sale by Adam and Amy Klein after five years ownership.
The 47,100ha property is adjacent to the Thargomindah township and is suitable for running cattle, sheep or goats.
Thargomindah Station is currently being run as a cattle enterprise, but in the past was a sheep and wool operation.
The mostly flat to gently undulating open grasslands are timbered with mulga, box and beefwood.
There is around 5600ha of Bulloo River frontage and flood-out, supported by a capped share bore and two wells.
The recently fully exclusion fenced Thargomindah Station is currently enjoying a good season – receiving 30mm of rain in the past week.
Sam Bartlett from Adcock Partners who is conducting inspections reports good stands of hayed-off native pastures.
Meantime, agent Andrew Adcock said good inquiry was coming from 'inside' producers, around Roma, looking to expand with better priced breeding country.
Thargomindah Station will be auctioned on July 13. The sale includes 500 cows and progeny.
Dysart cattle breeding & finishing
After 35 years, the Pocock family has listed its premium Dysart district cattle breeding and finishing country in Central Queensland.
The 2047ha Highland Plains is located 24km south-west of Dysart, 60km east of Clermont and 110km north-east of Emerald.
During their ownership, the Pococks have focussed on breeding and growing between 500 to 550 head of cattle.
The country on Highland Plains is mostly open to semi open deep, black, self-mulching soils that have been farmed in the past and could grow forage or grain crops.
The remainder features mountain coolibah and loamy box ridges and coolibah and ti-tree creek flats.
Situated in a 575mm average rainfall region, Highland Plains is heavily grassed and abundantly watered by ten dams and five bores.
Recent improvements have focused on ease of management.
RBV agent Terry Ray said the property will appeal to existing producers looking for a bolt on acquisition, as well as those seeking a standalone operation.
"There have been an above average number of inspections from locals and Central Highlands producers seeking expansion," he said.
Highland Plains will be auctioned on 14 July by RBV Rural.
NSW beef factory & fodder powerhouse
A beef factory and fodder crop powerhouse on the Gwydir River in north-west New South Wales has been listed for sale by Dan and Lucy Coulton for between $6 million and $7 million.
The 825ha Kiaora is situated 14km north of Gravesend, 32km west of Warialda and 70km east of Moree.
Around 75 percent of the property is arable and comprises 270ha of highly productive river flats and 380ha of rich self-mulching black and chocolate soils suitable for summer and winter grain crops.
Kiaora boasts 8km of Gwydir River frontage and is watered by a bore, 180,000 litres of water storage, an extensive trough system, as well as 13 dams.
The balance is productive finishing country capable of turning over 1300 trade cattle a year.
During their seven year ownership, the Coultons have developed the property and installed new fencing.
A licence is pending for a 999 head feedlot that includes six feed pens, four holding pens and six supplementary paddocks with troughs.
Paul Kelly from Moree Real Estate is handling the sale, which includes 225ha of forage oats, 168ha of barley and 35ha of improved pastures.
$15m+ for New England grazing
Offers higher than $15 million are being considered for a cattle, wool and prime lamb operation in the renowned New England region of New South Wales.
Midlands is situated in a 900mm rainfall district 22km north-west of Guyra and 57km from Armidale. For the past 17 years it has been held by Andrew and Sue Ross.
The 1006ha holding is gently undulating and consists of basalt and trap soils with some loamy creek flats. Around 75 percent is arable.
Midlands has an estimated carrying capacity of 9500 dry sheep equivalents. Vendor Sue Ross believes with additional forage crops and pasture improvements this number could be increased.
The property features a 1.5km double frontage to George's Creek and is watered by 33 dams (mostly spring-fed), as well as two equipped bores.
Midlands has been developed with good fencing, laneways for ease of management and sheep and cattle infrastructure.
Northern Tablelands grazing block
A grazing block on the edge of the Northern Tablelands in New South Wales is being offered for sale by Robert and Justine Aitken who are selling to downsize to a smaller holding nearby.
The 590ha Craigleigh is located 20km west of Bundarra and 65km south of Inverell.
The country comprises softer type granite soils and loams in creek areas rising to hilly grazing areas with rocky outcrops.
The improved pastures, which have had fertiliser annually applied since 2016, are capable of running 165 breeding cows in a normal season.
Situated in an 875mm average annual rainfall region, Craigleigh is watered by the permanent Saveall Creek, seasonal creeks which traverse the property, a solar equipped bore and several dams.
The property has good working improvements and is well fenced, with most of the fencing erected in last four to five years.
The sale of Craigleigh is being handled by Carl Hurford from Nutrien Harcourts and Justin Williamson of Williamson Rural Marketing.
The agents were unable to disclose a price guide, however grazing country in the area has been making between $10,000 and $15,000 per cow area.
Cattle + fodder in NQ
One of the few irrigation farms in North Queensland's Upper Burdekin is being offered for sale by Slaney & Co.
The 566ha Basalt is 25km from Charters Towers (close to the Lynd Highway) and 150km north-east of Townsville.
Basalt is currently farming Rhodes grass hay and running 100 mixed cattle, with 40 mixed weaners (200 to 300kg) included in the sale.
Situated in a 651mm average annual rainfall region, it features a mix of fertile black and red basalt and alluvial Burdekin River frontage soils, well drained farming land and significant irrigation water.
Basalt farm has 5km of Burdekin River frontage and a 2400ML water entitlement. Construction of the proposed Big Rocks Weir will mean additional, reliable water supply.
Selling agent Henry Slaney believes Basalt will suit a range of buyers including farmers, cattle producers, professionals, business operators and retirees.
Basalt will be auctioned on July 11.
Mixed grazing & farming at Dulacca
An ideal balance of grazing and farming country on Queensland's western downs will be auctioned on June 29 by Nutrien Harcourts GDL.
Owned by Andrew and Jacqui Coleborn, the 1315ha Myalla and Glenvale (about 2km apart) are situated 6.5km north of Dulacca and 50km north-west of Miles.
The country features quality, soft, self-mulching reddish belah soils and darker soft brigalow soils.
Almost 700ha of previously cultivated country is carrying good stands of buffel across both properties.
Glenvale features Back Creek frontage, with both properties watered by nine dams.
Agent Owen Brockhurst is handling the sale of Myalla and Glenvale which will be auctioned separately on June 29.
EOI for CQ's Brackenhill extended
Expressions of interest for a Central Queensland cattle irrigation property with residential subdivision potential has been extended to July 13.
The 345ha Brackenhill is situated on the high bank of the Fitzroy River, 20 minutes from Rockhampton and 40 minutes from Yeppoon.
Alexander 'Bob' Meldrum, a cattle veterinarian and producer, purchased the river acreage in 1966. For the past 18 years, it has been managed and further developed by his daughters Melissa and Natalie.
The well grassed breeding block has been cleared and sown to improved pastures, including leucaena, that can support 500 cows and calves.
Brackenhill is well-watered by 1.6km of Fitzroy River frontage, 700m of Etna Creek frontage and 11 dams. The extensive pondage pasture is irrigated by a gravity-fed system and supported by supplemented and unsupplemented water allocations.